Jeep Expeditions allow us to find and explore some of the best hidden places of the Island, go by unexpected landscapes with natural astonishing natural features, going along normal roads as well as less known paths and shortcuts.
Both Land Rovers can carry 6 passengers.
There are three types of expeditions:
Half-Day (4 hours) / Full-Day (7 hours) / Exclusive/Private Expeditions: Half-Day or Full-Day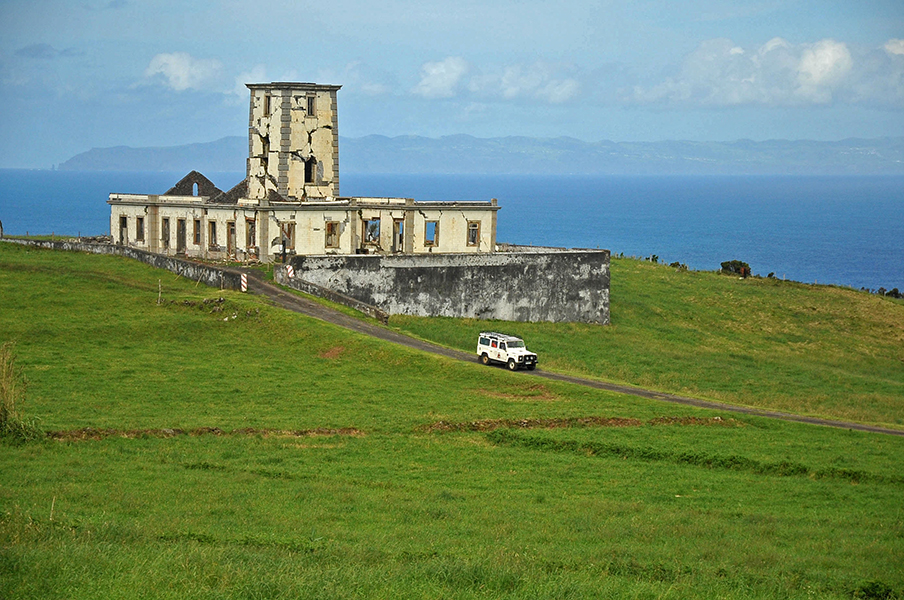 Half-Day
Half-Day jeep tour expedition lasts aproximately 4 hours. It begins in Horta, heading straight up to the Natural Reserve of the Caldeira of Faial. Then, it descends, mostly on gravel roads, towards the interior part of the Island, continuing to Ribeira das cabras Viepoint, allowing us to appreciate the Volcano "alignement" of the Capelo peninsula.
Next, the Capelinhos Volcano breathtaking landscape, with it´s desert like appearence covered in volcanic ashes. Turning back, we star tour way back to Horta, along the south coast, still visiting Varadouro where we can also enjoy the view towards Morro of Castelo Branco.
Children 0-5 years: FREE (before check availability)
Children from 6 to 12 years old (inclusive): 50% discount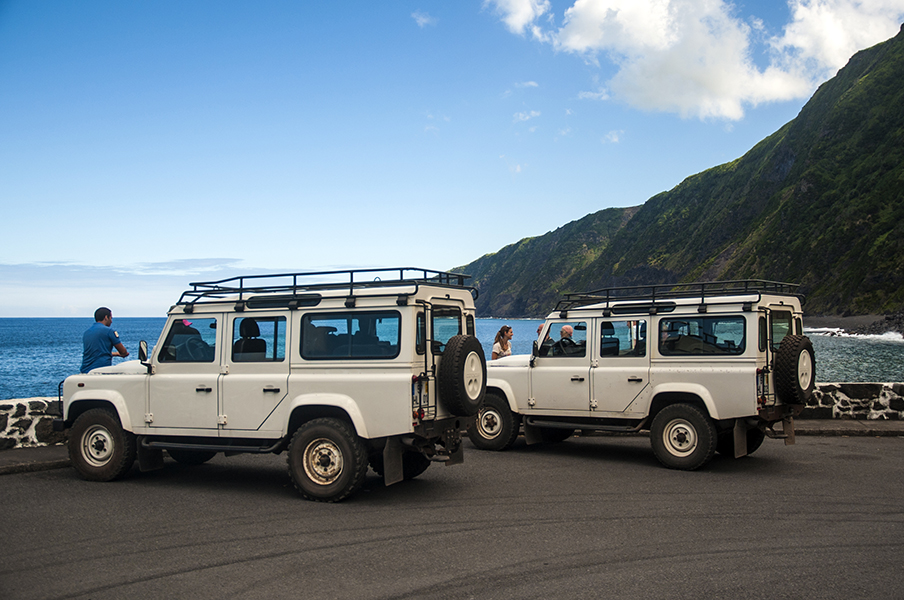 Full-Day
Full-Day jeep tour expeditions last aproximately 7 hours. It begins in Horta, heading to the village of Flamengos to visit the Botanical Garden of the Island, in which we can enjoy a small but beatiful sample of endemic species of the Azores. Next, we head up to the Natural Reserve of the Caldeira of Faial, always surrounded by the blue hydranges, from which the Island gets it´s "blue island" designation. It keeps going towards Ribeira das Cabras viewpoint, along Serra of Feteira. We then stop for a homemade style meal lunch at Campo dos Sabores.
The afternoon proceeds with the descent to the Fajã in Praia do Norte, with it´s small beach and small stone houses, "adegas", used for the local production of wine. Then, on to the Capelinhos Volcano. This is the most recente volcano in Europe, since it
erupted in 1957 (continued into 1958). We can observe and enjoy it´s magnificente desert like landscapes as well as make a visit to the Capelinhos Vocano Interpretation Centre.
Starting our way back to Horta along the south coast of the Island, we still make a quick stop at Varadouro to admire the amazing Morro of Castelo Branco, ending our day in Monte da Guia, already in Horta, where we can also admire one of the best
views of the city and the Bay of Porto Pim.
Children 0-5 years: FREE (before check availability)
Children from 6 to 12 years old (inclusive): 50% discount